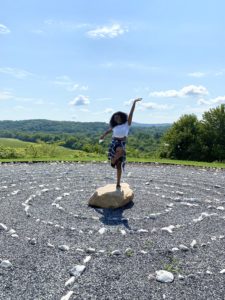 Listen to: "20 Something" by SZA
How you ain't say you was movin' forward?
Honesty hurts when you're gettin' older
I gotta say I'll miss the way you need me, yeah.
As a teenager, I was told my 20s would be the best years of my life.
That I'd gain the 'real life' experience attending an out of state college (check), that I'd meet my lifelong friends (check), travel to new places/try new things (check), make an impact on my campus (check), graduate college (check), start my big girl job (pending), find/marry the love of my life ( nonexistent), and live happily ever after in our 10,000 sq. ft. Santa Monica estate (lolz).
Since entering my 20s, I've been undergoing cycles of realization, destruction, and transformation. It opened my eyes to the pretty lies & ugly truths of this world, this country, my community, my friends, my family, & myself. This constant rude awakening has propelled the state of my mental/emotional health into a nonstop rollercoaster ride, as I navigate through life searching for my place within reality. Some days I feel unstoppable- ready to embrace God's purpose of my life & make an impact on the world. Most days I feel like the weight of the world is crushing me into a million pieces & I can't escape it.
Why you ain't say you was gettin' bored?
Why you ain't say I was fallin' short?
How you lead me out so far away?
It's been a year since graduating college, completing (half) a year of service in New York, & now four months into my 2nd year of service here in Baltimore. The struggle has been real trying to combat my habit of feeling guilty when (I think) I'm not working hard enough towards my future. So many great things have brought me to this point, yet I still have this undying feeling that I need to do more – to be more.
How could it be? 20 something
All alone still, not a thing in my name
Ain't got nothin', runnin' from love
Only know fear.
That's me, Ms. 20 Something
Ain't got nothin', runnin' from love
Wish you were here.
Being homebound majority of the time has provoked an anxious vibe that makes me (& my community) frustrated & stir crazy. I bounce between being totally invested in my workload & not having the energy to reply to a single email. Lately, it's been the latter.
Many times I've sat at my desk (phone on DND as an attempt to focus) only to procrastinate by scrolling through Pinterest on my laptop. Mentality checking out after sitting through hours & hours of zoom calls. Falling into the rabbit hole of my Twitter timeline. Taking a "break" to chat with my housemates (which results in binge watching movies). Applying to jobs after searching for hours only to stop midway because the process is taking too long. Or the typical existential crisis at 12pm when I question my entire existence.
It all feels like one long day on repeat.
Stuck in them 20 somethings (2x)
Good luck on them 20 somethings (2x)
God bless these 20 somethings
(God bless, oh God bless, oh God bless, oh God bless, oh)
I'm blessed (again) to live intentionally in a community that nurtures my mental & emotional health. Our daily heart to heart conversations, pep talks, & sad hours are reinvigorating & reassures me I'm not losing my mind. They remind me that it's okay (even though lowkey it kills me inside) to have unproductive days every now & then. To take a step back & not allow my job, this program, nor my anxieties stress me out. I'm beyond grateful for our in-tuned connections & the memories we've created together so far. It can be as small as our walks around the neighborhood (masked & socially distanced of course) or making Sunday brunch together that I relish in.
In those moments I feel weightless & that I'm where I'm meant to be.
Hopin' my 20 somethings won't end
Hopin' to keep the rest of my friends
Prayin' the 20 somethings don't kill me, don't kill me.
When my time in New York ended, I was ready to give up & wallow in the unprecedented change of plans. Then, right on time, Jan offered me an opportunity to serve another year of service in Baltimore. Since joining ESC a year ago, I've discovered so much about my spirit, the world around me & God's purpose for my life. I truly feel called to continue this path of revelation – even in the midst of a pandemic. My 2nd year of service has been a 2nd chance to make a difference in my neighborhood (at the best of my abilities), to figure out the next (baby) steps in my career, to continue to grow spiritually, & most importantly, to tend to my mental health during these crazy times.
I know I have to continue to trust God & move on His timing.
Weird, took us so long to separate
I feel, it's permanent like a riptide, this time
Waves crashing fast, I try
Think of the past, please stay.
So far, my 20s have been a rude awakening into adulthood. My 20s have taught me that the only constant thing in life is change. The relentless cycle of transformation that will either push you to move forward or swallow you under. Although these years may not have seemed like the "best of my life" – I know that this chapter of my life is shaping me to become the woman God has destined me to be.